F&M Men's Soccer
Coach's Corner
F&M Soccer is consistently ranked as one of the top 20 programs out of over 400 in DIII Men's Soccer. Consider the following:
2013 Overall Accomplishments:
17-4-2, Centennial Conference Champions,NCAA Division III Quarterfinalist, NSCAA #8
1 Conference Player of the Year, 2 National All-Americans, 3 Regional All-Americans, 4 All-Conference selection
Head Coach named Southeast Pennsylvania Soccer Coaches Association – College Coach of the Year (All Divisions) and NSCAA Division III Mid-Atlantic Coach of the Year for third time
2013 Centennial Conference/ NCAA Tournament Accomplishments of note:
Highest end of season ranking since 2006
Highest finish (Elite 8) in last 16 years
Most goals (8) scored by any Conference team in NCAA Tournament
Program Overview:
Made Conference playoffs and been nationally ranked 6 out of last 8 seasons.
3 All-American, 10 All-Mid-Atlantic Region , 3 Conference Players of the Year and 30 All Conference selections in past 13 seasons
Disciplined program. In past 13 years:
Coaching staff has received 0 Red Cards and 4 Yellow cards in 13 years
Players have received only 1 red card in last 8 seasons
The 2013 team had only 8 yellows in 23 match season
All Americans 
If you are a prospective athlete interested in F&M Soccer, you have come to the right place. This is the best way to connect with the F&M Men's Soccer Program and coaching staff. To be recruited by F&M, you must first fill in the F&M Soccer recruiting form that can be found by Clicking Here.
Next, we strongly recommend you get to campus to participate in one our clinics, our camp or even both.  92% of all players on the current F&M soccer roster attended at least one camp or clinic at F&M. 
Finally, we will be attending the PA Classics Winter Showcase this coming weekend.  If you are planning on attending, please click here to fill out our form so we can add you to our "players to watch" list for the weekend.
2015 Residential Camp:



What

:  Our objective is to recreate the intensity of the College training environment to prepare college bound players for playing at the elite NCAA level. Athletes will walk in the steps of a Diplomat soccer player, training on the same fields with the same drills and coaching staff. Players will receive written feedback on their strengths and weaknesses and recommendations on what level College soccer program is the proper fit for them.
Who

:  The camp is open to all rising high school juniors and seniors as well as all incoming F&M male students.
Where

:  Franklin & Marshall College located in Lancaster, PA
One-Day Clinics:
What

:  Our one-day clinics are abbreviated versions of our summer ID residential camp.   Following the clinic, we will continue to track clinic attendees throughout their club seasons.
Who

:  The clinics are open to all current high school sophomores, juniors and seniors.
When

:  Sunday February 8th, 2015 (1:00 – 4:00 PM)
Where

:  Franklin & Marshall College located in Lancaster, PA
Cost

:  $125

IMPORTANT

:  Please bring both indoor and outdoor soccer shoes
Recruiting Seminars:
What

:  Our recruiting seminars are designed to give insight into the F&M Men's Soccer Program
Who

:  Anyone interested in learning more about the F&M Men's Soccer Program
When

:  Sunday February 8th, 2015 (4:30 – 5:30 PM)
Where

:  Franklin & Marshall College located in Lancaster, PA
https://www.youtube.com/watch?v=x26tki5AW9w
Men's Soccer May 2014 Cape Town Trip Schedule-  

Click here

Jared Bomba's Daily Journal From the 2014 Cape Town Trip-

Click here 
Background
In March of 2007, Men's Soccer Coach Dan Wagner launched the F&M Soccer Africa Project. The goal was to connect Franklin & Marshall College with the people of Site B Khayelitsha in an effort to develop both communities.
Six months later, a tragedy occurred which changed the course of the project forever. Star F&M Soccer player Chris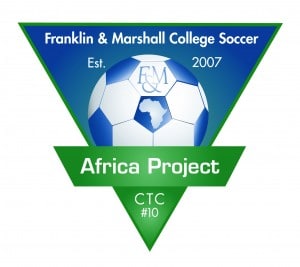 Campbell 08′ passed away the day before his senior season. This crushed both the F&M community as well as Friends Central in Philadelphia where Campbell had attended and was a popular athlete. Through the efforts of Chris's family, both the F&M and Philadelphia communities came together to form the CTC Ten Foundation, dedicated to serving the people of Site B Khayelitsha through Sports for Development efforts.
From Chris's passing to now, the term "Soccer Africa Project" is rarely used and has been replaced by  "CTC Ten" (Chris's initials  and F&M jersey number).
After endless fund raising efforts in 07/08, Wagner led his soccer team to Khayelitsha in March 2008. With a delegation of 52, the soccer team played soccer matches in the Cape Town region, ran soccer camps in conjunction with Grassroots Soccer, and announced the construction of Chris Campbell Memorial Field. 4 months later, Ryan McGonigle (F&M 08′) returned to the field to serve the community and oversee operations at the Campbell Field. He stayed three years.
Since then, F&M's relationship with Khayelitsha has grown exponentially through Campbell Field. F&M men's soccer visit Cape Town every three years, spending time at Campbell Field and also playing soccer matches with local professional teams.
Since the creation of the Chris Campbell Memorial Field: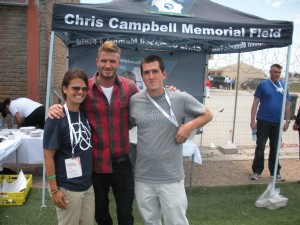 Over 150 F&M students, alumni, administrators and board of trustee members have visited the facility

5 F&M graduates have been employed at the CCMF via year long internships

Crime rates in the township surrounding the facility have dropped 44%

The CCMF and its programs have been recognized by the United Nations, Michelle Obama, David Beckham and the South African Government.
Video from 2014 Trip to Cape Town
Visit Our Partners:
Professional Development Program
 What is the PDP?
Founded by Chis Walters 08′ and Aaron Jacobs 01′, The Professional Development Program (PDP) was created to provide career assistant to F&M Men's Soccer players. The PDP has been in full affect for just over a year and has resulted in an explosion of internship and job opportunities for our players. In fact, 100% of our class of 2013 were employed upon graduation.
The PDP exists to:
formalize a career advocacy network within the F&M men's soccer community.

aid in the career development of current F&M soccer players.

help engage former F&M community members with the program.
The program has two tiers. The first is a professional development mentoring program connecting current players with young alumni. The mentors provide career advice on building & maintaining resumes, obtaining internships, networking strategies, and other career drivers that match the interests of the current player. The second tier includes parents and alumni who are established in their professions. They are encouraged to be as involved with the development of current players as they wish, but at the very least, be willing to "pick up the phone" when anyone from F&M soccer calls. The established group serves as a support network to provide contacts and place the current players a step closer to career opportunities with a focus on internships and interview opportunities.