As I tried to unscramble our days in Africa time zone differences, I realized that according to my blog we experienced back-to-back Fridays on Days 10 and 11.  As miraculous as this would have been, it did not actually occur.  Day 11 should have been marked Saturday and each day afterward was in fact a day further along in the week.  My apologies.
With that in mind, it was with some melancholy that we awoke on Monday morning, the day in which we were to depart from beautiful South Africa.  However, that is not to say that we missed packing Monday to its fullest.  We started with a fresh, early wakeup call at 6:45.  This allowed us to get breakfast at 7 and hear our final presentations at 7:30, brought to us by Matty Regueiro, Dave Reingold, Dave Martin, and B-Rabbit.  Topics included the chapter titled Quitting Is Leading Too, as well as the value of seeing both sides of an issue and finding an area of personal comfort and relaxation.  Each presentation brought a personal touch the book's final chapters and fittingly brought the readings to an end.  I have heard one parent claim that the reading and the following discussions were their favorite moments of the trip.  While I can't say I agree it certainly added an element of leadership training and scholarship that could easily have been passed over.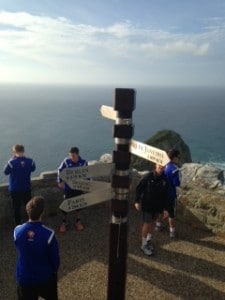 After breakfast we made the hour-long trip to the Cape of Good Hope, commonly known as the most southerly point of Africa.  However, Johno again proved his environmental genius by informing us that it is actually not the most southerly point, but merely the most southwestern point of the continent.  Despite his inadvertent efforts to throw a wet blanket on our enthusiasm, it was with gusto that many bleary-eyed players made their way off the bus and up the hill to the lighthouse.  The lighthouse proved to be disconcertingly short, but its position at the top of the point made its 15 foot stature seem far greater.  Not surprisingly, the views at the top of the hill were stunning as we were presented with a 270° view of the ocean in the shadow of the lighthouse.  Just past the wall around the lighthouse, dizzying falls reminded me of a certain bridge I once jumped off of.
We headed back down the hill and proceeded to the point that is actually the Cape of Good Hope, though not the highest point in the area.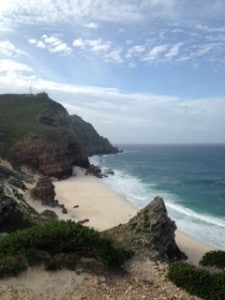 It was predicted to be a 40 minute walk, so with our minds aware of a full day and a flight to catch we started down the path.  Our collective fitness and ambition as a group had us progressing much faster than predicted, so around halfway our more energetic and adventurous souls marched down a few hundred extra steps to a small enclosed beach.  We kicked off shoes and ran around in the sand before wading in water up to our ankles or climbing some enormous rocks by the cliff.  We were left behind as the rest of the crew continued on to the point itself, but we hurried to catch up after our very worthwhile side trip.  When we arrived at the true Cape of Good Hope, the heights were not as impressive as the previous hill, but it was nonetheless a popular location for final photographs.
Fortunately Rashad, our trusty busdriver, had found a way around to the point so we were able to avoid the trek back to our first stop.  As we were leaving, we almost immediately encountered a flock (flock?) of ostriches just feet from our bus.  While the best description that I heard was probably "those are funny lookin' birds", they were an integral part of an exclusively African scene: these uniquely African birds in this classically recognized African landmark and surroundings.  It was a very cool moment indeed.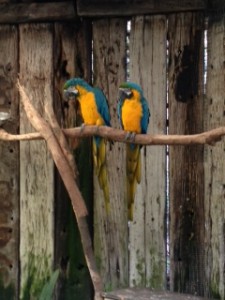 From these bizarre birds and their serpentine necks we proceeded to the World of Birds Sanctuary in Hout's Bay, a half hour closer to Head South.  I confess that I was one of the many that attended to my own hunger before exploring the extensive sanctuaries of parrots, flamingos, honey badgers, and monkeys.  When I finally did get around to checking out the different areas, I was pleased to see many beautiful birds that wiped the somewhat creepy ostriches from my mind.  This coupled with a few adorable marmots made the outpost much more than a mere lunch stop.
After World of Birds we headed back to Head South for the final time.  Luggage had already been loaded onto the bus in the morning, so the short return to the lodge was a quick stop for any last attire changes and showers.  Unfortunately we were running a tad late having only arrived back at the lodge around 3 and hoping to get to the airport by 4:30.  The difficulty was that a few people had requested a short return to Greenmarket Square to buy final gifts and souvenirs for themselves and  loved ones.  I agree we needed to revisit the market and arrive at the airport with time to spare, but this left me with no time to shower before travel.  I fear that as I write this I am still dealing with the consequences of this (as are the people downwind of me).
We departed the market just before 4:30 and arrived at the airport 15 minutes later.  It was this point that we said reluctant goodbyes to Johno and Rashad, meaning that we could no longer pretend we would stay in Africa forever.  We checked in our baggage and grabbed a quick bite to eat before boarding a flight to London.  By 7:45 Africa was thousands of feet below and most of us were wondering if we would ever make it back.
We landed in London at 6:15 AM on Tuesday.  The majority of us had been thoroughly exhausted from our final days in Africa and had been able to sleep during the 10+ hour flight.  We then endured a three hour layover which proved to be a perfect amount of time to check in, grab a small breakfast, and regain our sea legs before the next flight.  At a hair before 10 o'clock local time we left London, after which a 7 hour flight put us in New York's JFK airport at 12:15 PM.  We said a second round of goodbyes to our NYC and north Jersey residents before boarding the bus for the final leg of our journey.  Traffic was bad to say the least, and it was a little after 5 before we arrived back in the dirty Lanc.
It seemed a bit of an anticlimactic end to what had been a fantastic trip.  A journey that had included soccer, nature, African culture, and tourist attractions.  Hard work of the mental and physical varieties, strengthened bonds and new relationships, faced fears, and personal realizations.  The past memories and future implications of these long-term developments and ephemeral instances could not be capped as we efficiently removed our luggage from the bus a hurried out of the rain that had begun to fall.
But despite the real presence of these gloomy farewells, life does indeed go on.  I for one had the joy of learning that the realty company had changed the locks to my apartment without telling me.  That's pretty sweet.  Ah well.  I was still glad that my mother and I could head home and return to the lives we knew well but now had much different perspectives on.
Besides my sappy ramblings, it is with great pride and pleasure that I have written and remembered this trip with you all.  I am glad that I can now sit here in Middle-Of-Nowhere, PA and recall my time in Khayelitsha, South Africa with such clarity and fondness.  We have all returned with clean bills of health and minds lifted by the experience.  Hopefully these posts have allowed readers to enjoy the trip to a fraction of the degree that those with me did.  It was truly life-changing.  Peace, happiness, and love to all.