Our final full day in Africa began with an 8 o'clock wakeup call.  We enjoyed a presentation from Conor Pellas and Jerry Levine on the chapter titled Love Makes The Difference.  As usual, it was very well prepared and an interesting discussion ensued about differing representations of how Mandela treated women.  In the book he embodied fidelity and righteousness, while in the movie he had a bit of a reputation as a womanizer.  It reminds us that societal memory is subject to human perception and recreation.  But just as human flaw is part of what becomes passed down through the ages, we were more directly showed that Mandela was a flawed person, like us all.  It should not tarnish his memory, but perhaps increase our respect for a person that was just like us and chose to change the world.
We departed Head South at 8:30 for our final fixture of the trip.  The match was something of a surprise as the itinerary showed a 3 PM start in a game against the best players that participate at the Chris Campbell Memorial Field.  At least that was my understanding of it.  Instead we ended up playing a 10 AM match at a nice turf pitch in Gugulethu, a township that neighbors Khayelitsha.  As for the team we ended up playing, I'm not sure exactly who they were.  They were called Cape Town Stars, but it is not clear who the players actually were.  On one hand I heard that they were a permanent club and had just won promotion to the 2nd division in South Africa.  However I also heard that it was an all-star team comprised of all players from the nearby townships.  This second rumor included word that one of their strikers played for Orlando Pirates, one of the most popular teams in the PSL, and that their whole back line played at least 2nd division with one of the center backs playing consistently for the Ajax Cape Town first team.
Regardless of who the opponent was, we were excited to play and see what we could do.  Unfortunately, the game started poorly when a miscalculated backpass played in one of their forwards, quickly resulting in a 1-0 deficit just minutes in.  However we pinched a goal back about 10 minutes later when we pressed the goalie into basically kicking the ball directly to me inside his own box.  I passed it by him to Chase who neatly tucked it into the empty net to even the score.  Unfortunately, this team was skilled enough to ping 40 to 80 yard balls directly to feet with stunning consistency.  While they were good with the ball on the floor, it was their ability to switch play so quickly that really gave us problems.  It made pressing both exhausting and fruitless as well as making their lives easy in terms of retaining possession.  They added a well-worked goal before half to send us into the break down 2-1.
Despite a few tactical changes at the half, our problems nonetheless became larger early in the second period.  Another unforced turnover in our own half allowed them to score a 3rd just minutes in before a corner resulted in a headed goal to make the score 4-1.  However, soon thereafter we toughened up the defense and created a few opportunities of our own.  It remained 4-1 until about 15 minutes left when I managed to keep in a cross that had flown over the heads of everyone in the box.  I worked enough space to whip a low ball into the back post, but it struck a defender's hand and we were awarded the penalty.  I banged it home to bring the score to 4-2.  Disappointingly they grabbed another goal just before the end when a great show of pace by one of their wings got them in behind on a break, with a lofted ball to the back post giving a forward an unchallenged header to bring the score to its final tally, a 5-2 defeat.  Despite the quality of our opponents, we were still displeased with both the scoreline and our performance as individuals and a team.  Not the best way to end our match set in South Africa, but a pill we were forced to swallow.
After the match we were taken by Sugars, a Gugulethu native and the contact that had allowed G to schedule the match, to the brand new Amandla facility in Gugs.  The field is brand new and a few buildings around the field have yet to go up, but apparently ample funding is coming from the Oliver Kahn Foundation to construct all necessary pieces for this new safe hub.  Sustainability is something we have discussed a lot during the trip, and even six years into the CCMF project the future of the field and its presence in the township remains difficult to forecast despite the positive effect it has had to date.  With that in mind, it was encouraging to see a brand new facility that imitates the CCMF and signals growth of the movement in general.
Our lunch plans were to hit up Mzoli's, a legendary butcher that Wags claims has "the best meat ever".  When we arrived at Mzoli's there was a startlingly large number of white people for a place smack in the heart of the township, and the line went way back out of the door.  Luckily, Sugars knew of another, lesser-known place that also had quality meat.  Thus we ended up at 50 on Gugs, way away from any of the tourists seen at Mzoli's.  We expected a wait for the large platters that were ordered, but the people unfortunate enough to sit outside experienced a longer wait than expected.  Mostly because the people sitting inside ate all of the meat except for a few scraps.  I'm not bitter, not at all.  I'll probably be able to forgive them by the time preseason rolls around.  In all reality it was a mere misunderstanding.  In fact, it worked out just fine for those of us that had missed out at first.  Wags was kind enough to sponsor dinner at a KFC near Head South with team funds, and all was well.
Upon our return to the lodge we were greeted by Sam, a painter from Khayelitsha that has done all of the South African paintings that can be seen around F&M.  Wags had contacted him earlier in the week with an order, and a few days later he showed up at Head South with 25 paintings to sell.  The paintings are fantastic, featuring several similar themes but definitely individually unique.  For a 2×3 foot painting he asked a reasonable 300 Rand, while slightly larger paintings were R500.  Everyone that wanted a painting was pleased to get one, with a few people deciding to also purchase the extra canvases that Sam brought.  My impression was that Sam is a cool guy with really cool paintings, and I'm glad he and Coach Wagner have created a mutually beneficial relationship.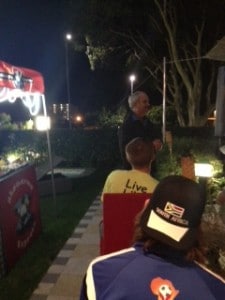 Soon thereafter, the caterers that we had invited to provide dinner for the night, from a company called Shawarma, showed up.  They set up their shop and began cooking the lamb at around 5 so that dinner could be served around 7.  In the meantime we had the pleasure of hearing a speech by Christo Brand, a former Robben Island prison warden and longtime friend of Nelson Mandela.  Hearing his transition from unpoliticized prison guard to political supporter and close friend of Nelson Mandela was thought-provoking as well as merely interesting.  His insight into Mandela as a person was rare and honest, and his presence as a white backer of Mandela provided some depth into the dualistic history of apartheid that history books may simplistically provide.
It was a pleasing final day that hit three main facets of our trip.  We took part in soccer, the township and Amandla experience, and the historical/tourist aspect.  Unfortunately we did not make it into a more natural environment as we had been able to in past days, but it was nonetheless a full and enjoyable day.  A worthy cap for a trip that against all odds turned out to be even better than expected.  Additionally, it is just a few more days before we see all of your smiling faces back in the states.  One love.