After a late night on Thursday, we by design had a later Friday morning that began with breakfast at 10:15. As such we also wanted to avoid forcing anyone into a rushed presentation, so after a slow breakfast and short debrief on the night before we were prepared to tackle the day. Despite the late breakfast, our first action for the day was to head to Biscuit Mill Market, an open-air marketplace including all sorts of items as well as an enclosed food market featuring everything from steak to coffee and ice cream to fresh produce. After some shopping most of us felt the need to sample the cuisine, so many of us, myself included, settled on a steak sandwich that G recommended. The sandwich was amazing, basically lettuce and tomato paired with huge slices of delicious steak that were carved off right in front of us.
We left Biscuit Mill around 1 and headed back to Head South for any recuperation that was still needed. A few of us were hoping to play a round of mini golf on the waterfront, but the first annual F&M Waterfront Open was cancelled due to a light rain, resulting in naptime. I was one of the many that had been attempting to sleep as little as possible in order to spend as many waking hours as possible in Africa. Unfortunately, for the first time I felt the need to crash and I ended up getting in a two-hour snooze. I was happy to refuel but I won't be trying to waste any more time with such inactivity.
I awoke around 4:15 as we had planned an intra-squad 5v5 tournament. Teams had been divided up earlier in the day, and it had been decided that the tournament would be called the Immunity Shield. This meant that each team failing to win first place would suffer a consequence depending on what place they earned. The first place team would win immunity, while the second place team would have to eat a fluid ounce of mayonnaise and the third place team would have to drink an ounce of hot sauce. The real kicker, however, went to the fourth place finishers that would have to spend 5 straight minutes in the tiny, unheated pool situated in the front yard of the lodge. Keep in mind that it is winter down here. The results came in, and I'm proud to say that the team made up of G, Vince, Mario, B-Rabbit, and I won immunity with a stellar performance throughout. The team of Pellas, Chris, Max, D Martin, and Templeton won the dubious honor of swimming with the fishes. Or just swimming, not with the fishes. Or just standing, since the pool is three feet deep. Whatever.
However there was no immediate opportunity for consequences. We returned from playing around 6:15, and had plans to watch the Champions League Final at Paddy Malone's, a local Irish pub. Unbeknownst to us, the final started at 8:45 local time instead of 7:45 as we thought. Thus we rushed around to shower and grab food only to arrive an hour early. This turned out to be a blessing in disguise as I watched a little cricket and made some progress into understanding the scoring system. Also I deduced from my short viewing that being a good batsman must somehow be connected to how fierce your beard is. I'd be awful. But that's neither here nor there.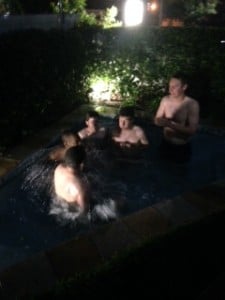 The final started, and we all congregated in front of a projector to watch the match. I think most people were cheering for Real Madrid to beat Atlético Madrid, which did eventually occur. As a Barcelona fan, I was forced root for Atletí as the lesser of two evils, though I had hoped that both teams would lose. Fortunately the impossibility of that was tempered by watching the 2nd and 3rd place teams take on their consequences at halftime. The 4th place guys would have to wait until we returned from the pub at around 11 to finally hop in the pool. Predictably, their expressions are hilarious. If it's visible, I'd like to direct you to Max's face in the adjacent photo. It pretty much says it all. All in all it was quite a fun evening.
Afterwards I had the pleasure of talking with Marty Perry with a few friends (we're on a first name basis!). I was reminded about the wide variety of people and opportunities that have been presented to me on this trip, and how despite my best efforts they may not be remembered in these words. I hope I can nonetheless remember the value of such moments. To all those not currently in Cape Town, I hope you find yourself in the quality of company that we have found ourselves in here. Thank you for reading. PH&L.