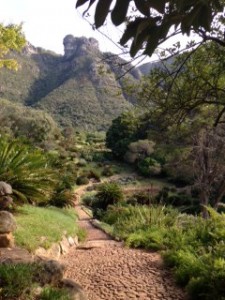 Friday offered us a little later wake up call, with breakfast at 8:45 featuring presentations by Gabe, Helms, and Connor McFinnegan.  We then made the 20 minute drive to Kirstenbosch Gardens, a botanical conservatory.  It was basically an amazing plot of gardens and well-manicured lawns, all set in the back shadow of Table Mountain.  The closest comparison I can make is Longwood Gardens, a conservatory near Kennett Square, and a place I am sure some of you are familiar with.  While Longwood has a larger indoor conservatory and is a little more closely tended, the scope and setting of Kirstenbosch surpassed its American counterpart.  We hung out for a while and threw a frisbee on one of the carpetlike lawns until some guy with a camera and a bad attitude told us we had to stop.  I don't think he actually had any authority but we ceased playtime anyway as he was already seriously killing the vibe.  After relaxing in the natural beauty for a while longer we left for lunch around 11:45.
Lunch was back in Cape Town at the Eastern Food Bazaar, an indoor market featuring traditional food from all over the eastern hemisphere.  Not only was the food freshly prepared as we ordered, but the portions were enormous and very fairly priced.  Though the food was excellent many of us found it necessary to cool off our tongues, which was fortunately covered by an ice cream booth near the exit.  A solid business tactic if you ask me.
After lunch we proceeded to Table Mountain, the rocky face that can been seen from all over Cape Town.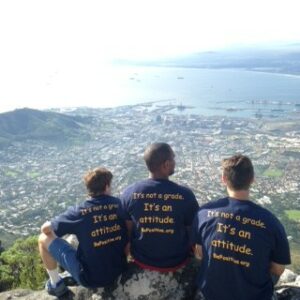 Unfortunately time constraints and fatigue deterred us from hiking up (which I assume is possible), so we took a cable car up the mountain, which was nonetheless cool.  We had strategically decided to go up on this day due to clear weather, and as a result the views were as great as expected, and possibly better.  The steep edges and wind gusts were a bit tough on a few stomachs at the peak of the mountain, but I think everyone is glad they made the trip up.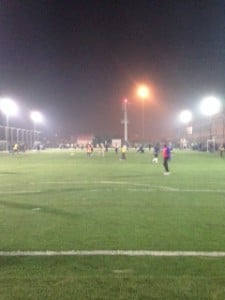 We headed back down the mountain a tad after 4 o'clock to return home.  We were given a few hours to rest up and do any necessary work before the day's big event, the Crime Prevention League.  The Crime Prevention League runs every Friday night with registered teams of men between the ages of 18 and 25.  The league attempts to put this demographic, which has the highest rate of crime, on the field during the Friday hours of greatest criminal activity. As such, we arrived at the field a shade before 8.  Africa time kicked in and the games started around 9 after an hour of pickup games.  Instead of usual league fixtures, a 48-team tournament had been put together with each of the F&M players being put onto a different team.  Unfortunately my team went out in the first round in a game littered with down time due to balls being sent over the fence and into the township.  In an effort to avoid theft of balls, failure to retrieve the ball in three minutes results in a loss for the team that kicked the ball over.  But while I complain about lost time, Conor Pellas suffered such a loss when his team was leading 4-1.  Despite some of the necessary idiosyncrasies, the tourney was quite fun and Landy's team, Atlético Madrid, ultimately won the championship around 1 AM.  Everyone bonded well with their team, and all in all it proved to be a fun and successful night.
That being said, we did see a different, shadier side of the township.  When we entered Khayelitsha during the dark hours, the entry seemed notably more daunting.  The sanctuary metaphor that the field begs me to make is extended beyond colors and instead manifests itself in the presence light and darkness.  Inside the fence is light.  Outside the fence is darkness.  Inside is football.  Outside is violence.  The contrast is astounding.  But we are reminded why the field is a necessity, and why work here must continue.  Just as the darkness creeps in around the edges of the field, we were unfortunately front row spectators to a fight on one of the sidelines.  Despite this negative moment, just as notable was the effort that other players made to break it up and keep the peace.  It did not come close to ruining the experience, but it was a small dose of reality that should be remembered in conjunction with the children on our shoulders and our run through the township.  It's not necessarily as pleasant, but is nonetheless a part of the complete reality.
We returned home around 1:45, and without great ceremony we retired to our rooms.  Another day well spent.