Thursday began with breakfast at 7:45. This particular morning we were the audience for Chase and Mario's presentation on the chapter titled Know Your Enemy. They discussed the value of preparation and knowledge of an opponent's characteristics whether you are on the soccer field, in the business world, or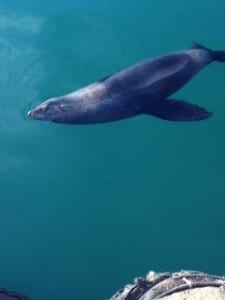 building a nation as Mandela did. Following breakfast we boarded the bus and traveled through Clifton on a coastal highway to catch a boat out to Seal Island. The drive was beautiful as we rounded the southern coast around Cape Town, only to be surpassed by the views that greeted us once we arrived at the bay where we would launch for Seal Island. We proceeded onto the boat for our 15 minute ride out to the island, which is basically two enormous rocks that are literally covered in seals. I certainly couldn't count them, but a conservative estimate might be 300. Or maybe 1000. Who knows? Regardless it was quite a sight, though the stench of their cramped living space did detract from it somewhat. Due to the small size and rocky nature of the island, we were unable to actually land on the island so the tours merely hang out in the boats around the island for a half hour. Despite our inability to get too close to the seals, it was nonetheless hilarious to watch animals appear so lithe and beautiful in the water but so awkward and uncoordinated trying to reach it.
Upon our return to the mainland we spent 15 minutes checking out a few stalls before heading back the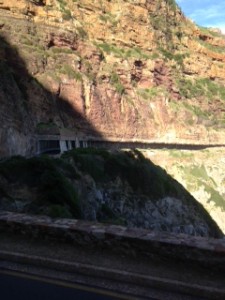 bus. We proceed down the highway to Chapman's Peak, where the highway runs out of space on the cliffs and has out of necessity been built into the mountain. The peak has been used in a few car commercials in recent years so a few us recognized the scene as we passed through it. The bizarre architecture mixed with the splendid views of the coastal highway made for a very cool moment.  We then proceeded beyond Chapman's peak and continued on to Boulder's Bay where we were able to see penguins.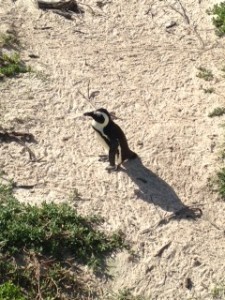 The penguins were small (probably knee height on me), and as a result were particularly charming. Their species name is the African Penguin, which despite being a boring name is significantly better than their previous name, the Jackass Penguin. More importantly I discovered that while anatomically they are not that different, penguins are cuter than ducks because ducks walk around like they know everything whereas penguins waddle around like they are perpetually bewildered/curious. At least that's my take on it. Regardless they were adorably cute and I wish I could have taken one home in my backpack.
After hanging out with the penguins we continued on to Kalky's, our lunch destination. Kalky's is basically run out of a glorified lean-to that is right on the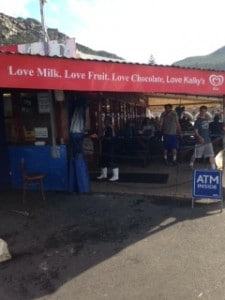 docks in Simon's Town. The fish they use is freshly caught on the fishing boats the morning they are served, and we even had the pleasure of seeing some fish unloaded as we entered the restaurant. Johno ordered us fish and chips platters that featured hake, snoek, and calamari in addition to what we would call French fries. Though I confess I am not a huge fish fan, I must say that the meal was delicious.
We again boarded the bus, but departed from the itinerary and rather than heading back to the lodge we made the trip back into Khayelitsha. We arrived at 2:30, giving us just enough time to play a bit with the senior leaders before kids began to arrive for afterschool programs around 3:15-3:30. Though we had fun with the kids dancing the Cha Cha slide, singing along to music on the loudspeakers, and generally enjoying ourselves, I feel that we likely wrecked the sessions that the leaders planned. Fortunately they did know that we were coming, were excited to see us, and prepared to throw what pretty much turned into a dance party on the field. While it wasn't the planned program it was nevertheless good for players and kids alike to be at the field and stay active.
We departed around 4:15 to head home before our planned fixture that evening. We were slated to play Camps Bay FC, a local football club to which G and the two current CTC 10 interns, Julian and Jordy, belong. We played the match at Camps Bay Field, which was a pretty nice grass surface, fairly flat and cut pleasantly short. That said, the field was not without its quirks. Besides some bizarre bumps and divots all over the park, one sideline featured a bowling area for cricket that was significantly harder and had shorter grass, while the opposite sideline featured a corner that can only be described as swampy. In any case, when the game kicked off at 7:15 we found ourselves able to knock it around.
Disappointingly, Camps Bay had a cup match on Saturday and as such they played what was largely their reserves. The first team guys that had connections in the match, like Jordy and G, did however play and made quite a difference. The early going featured a pretty even game, but our superior youth and fitness eventually began to pay off in our ability to win 50/50 balls, press defenders, and get in behind. Our first goal came off of perfect system cooperation when Devon got on the ball heading towards the right sideline near the halfway point. Jeremy made a run forward to draw the outside back wide and I was left with a straight path to goal, which Devon found beautifully. I was left with an easy dink over the goalie for the 1-0 lead. We continued to pressure their goal for the remainder of the period and were unlucky not to score again.
The second half saw Camps Bay feature a few more first team players, but it also saw us up our level. We continued to press high up the pitch and were thwarted only by some quality defending and at least one ridiculous save by Trevor, who was now filling in for their suddenly absent keeper. About 15 minutes into the period we regained the ball in our opponent's half and Conor Pellas slipped Derek through to hammer the ball in past the near post. We kept up the pressure and found a third goal just minutes later when Dave Martin coolly dispatched a free header at the back post courtesy a Devon Malfitano cross, his second assist of the evening. The game unfortunately went on to descend into some level of disarray as a few of the opposition's players took to arguing with the official (who was a player on their club?) and fouling unnecessarily. The game ended 3-0, a result that we were pleased with considering the undeniable quality of some of the players on Camps Bay. I do think we wonder what a match against their first team would have been like though.
After the match we took to a pub/hangout overlooking the field to share a drink with the Camps Bay players and celebrate an always welcome night of football. After a 15 minute stay we headed home for a much appreciated pizza dinner and showers. Our boys had enough energy and felt accomplished enough to stay up playing cards and hanging out for a while before crashing into bed. Most definitely a day well accomplished.
As always, I wish for nothing but the best to those reading around the world. The nice comments are greatly appreciated, and I am glad I can provide you with some measure of update on the goings on here. Live long and prosper.