Following two and a half days of absolute madness in Cape Town, day 8 finally offered us a little bit of time to decompress.  Nonetheless we started up with breakfast at 7:30, this time augmented by a presentation from Devon and Vince.  Their chapter was titled See the Good In Others, focusing on Mandela's ability to see the best in all people even if they were one of those that so greatly mistreated him.  In many cases this ability of his proved to help him on his way, never more so than in his forgiveness and inclusion of whites in South Africa as he attempted to build a new democratic state.  Our guys did a fine job to connect this principle into the vital practice of maintaining a team spirit and building a family.  Overall very well done.
Upon the conclusion of the presentation, we departed around 8 o'clock for the waterfront and our ferry out to Robben Island, where Mandela spent 18 years of imprisonment.  We arrived in time for the 9 o'clock trip out, arriving on the island about a half hour later.  When we arrived we got onto buses for a short tour of the island.  We were taken to three destinations, first of which was the island church, the only piece of privately owned property on the island.  Second we were taken to the point of the island, where boats were able to arrive and depart with prisoners.  Thirdly we were taken to the private prison house of Robert Sobukhwe, leader of the PAC.  Sobukhwe had formerly been a member of the ANC, but his frustration with the passive practices that Mandela retained led him to create a more radical group, the PAC.  As a result of his tactics, a special law was passed in South Africa in the 60s that made Sobukhwe the one person in South Africa that could be arrested and retained without cause or a trial.  Thus, after serving a short sentence in the early 60s, he was immediately rearrested and sent to the small two-room house on Robben Island where he stayed in isolation for multiple years.  In a horrific display of apartheid in his life, this once brilliant doctor of linguistics eventually became unable to properly communicate with people after being alone with his thoughts for so long.
Our last stop was the maximum security prison, where political prisoners were held.  As we left the bus behind for good, we were amused by the fact that the maximum security prison was reserved for the docile political prisoners while the medium security prison was used to house rapists and murderers.  We entered the prison and first went to a large multi-inmate cell used to house up to 60 prisoners.  Our tour guide, who allowed us to call him Glen, had actually spent around 6 years in this cell between 1984 and late 1989.  Not only was it interesting to hear him tell of his experience in the very room in which we sat, but the pride that he took in returning as a free man to tell his story was touching.  Additionally we found out the he lives in Khayelitsha, and we were able to make plans to meet him at the field later in the week.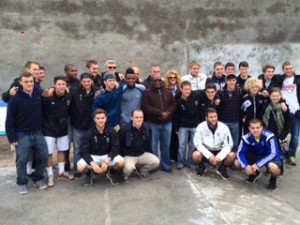 He then took us to the cell where Mandela was imprisoned during is time on the island.  The cell was just as small as I expected, but the bareness of it frightened me despite the fact that it was the only cell still filled with all furniture and utensils.  Regrettably we were not permitted to enter the cell as previous trips had been able to, but it was nonetheless a sight worth seeing.  We were also able to get a group photo on the tennis court that Mr. Mandela frequently played on while in the prison.  As we left the prison we were able to replicate his "long walk to freedom" by walking the same short path that political prisoners used upon ending their sentence.  All in all it was a powerful, relevant, and hands-on history lesson.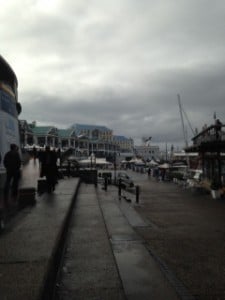 Exiting the prison returned us to our ferry for our return to the mainland.  Upon arriving at the waterfront we were given an hour and a half to grab lunch on our own and do any shopping we had time for.  The mall in which we ate was far too large to explore in any meaningful way, but I was able to get a good meal at Primi Piatti with a few friends and enter a few shops on our way out.  Though the shops were interesting and the mall beautiful, we were all rather worn out and hoping to grab a nap.  Yes, for the first time in what felt like ages we were able to relax and catch up on missed sleep.  I for my part tried to catch up on my blogging.  I didn't quite catch up as I find that my entries have been growing larger and larger by necessity, but I made some progress.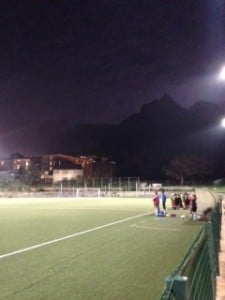 After around two hours, people began to awake and prepare for our 5:45 departure to the University of Cape Town where we would play our fixture at 7:15.  Though UCT does not have organized varsity sports, we knew that they took their football seriously and that the match would not be simple.  Our excitement for the game was only heightened by the silhouette of Table Mountain that seemingly loomed directly above the pitch.  Though the field was turf, we struggled to control the ball as our lack of sharpness was coupled with opponents that ran and tackled hard.  We nonetheless had the better of the play and took the lead about halfway through the first half when Chase pounced on a deflected shot to put us in the lead.  We managed to control the game even more in the second half, and the match eventually ended 1-0.  Everyone played and was pleased with at least their second half performance.  I personally played one of my best matches in a while and I think I can speak for everyone when I say that a restful day and a good performance still made for a comfortable night's sleep.  We got dinner on the way home and after eating at the lodge we relaxed for just a little before heading to bed early.
Despite a slightly more restful day we nonetheless managed to travel, win, and make a productive day of it.  All remains splendid on this side of the globe, I hope for the same to those not currently with us.  Cheers.