Tuesday began as usual with breakfast in the lodge around 8:15. Afterwards we were treated to Trevor and TJ's presentation on "having a core principle", centering around total focus on a singular goal and using any means to achieve it. While opinion was mixed on the absolute righteousness of Mandela's opinion, the presentation was predictably well prepared and as we have learned, having the conversation is far more important than arriving at a unanimously agreeable conclusion. Upon the conclusion of their presentation, we were released to make final preparations for the day and to board the bus.
Our first stop was the District 6 Museum. Before the apartheid government removed non-whites from city centers and divided people according to race, District 6 was very cosmopolitan part of Cape Town inhabited by people of all colors. According to our presenter Noor, a Muslim man who had lived in District 6, it was an area of great cooperation, understanding, and community. When the government decided to remove non-whites from city centers in the mid 60s and early 70s, they simply bulldozed all structures to the ground and planned to build homes for whites. It is in this time period that the townships as we know them were born. Townships were divided up by race to place non-Europeans in a space that allowed their labor to be exploited and to exclude them from the intermingling and productivity of city life. The government had originally planned to build houses in the townships, but after 20 years only 159 houses had been built in an area holding 2 million people. In a horrific show of irony, they also failed to build on the land of District 6, which remained unused and is today still open space. Thankfully Noor's family had enough money to avoid being forced into the townships, but to hear him speak with such passion about his former homestead brought the history behind the townships into a much more serious light.
After leaving the District 6 museum at around 10:30, we headed to Greenmarket Square to shop at the stalls and barter with the people selling their wares. There seemed to be an endless supply of unique items including painted ostrich eggs, radios made out of bottle caps, African patterned clothing, hats, flags, carved stone and wood objects, and many other various pieces. Our enthusiasm for gathering some authentic tidbits was only fueled by a field of effective vendors that use wit, charm, and persistence to draw you in. Almost everyone walked away with a few purchases and to my knowledge all were pleased with their acquisitions. We were scheduled to leave at 11:30 but unfortunately Africa time struck our team and we departed at around 12:15. The parents and Wags headed out on the Winelands tour for a day of wine, chocolate, and cheese. The players, Kevin, and Mr. Finn (who had just arrived this morning and was trying to see the field) headed back to Khayelitsha for another day in the township. And while wine and chocolate may sound like a day, I assure you each person headed to Khayelitsha was ultimately glad that they ended up there.
We showed up to the field a tad late and as such the senior leaders urged us to hurry so we could get to the activities that they had planned. We had been concerned about a fitness period with G, but the workout clothes we had been told to wear instead proved to be necessary attire for the first planned event, the Amazing Race. We made four groups, with each group starting at the field by receiving their first clue. We were subsequently sent to a primary school, a traditional bakery, a brewery run out of a shack that made traditional beer, a trash cleanup, and a grill being used for goat heads. Unfortunately I did not get to taste the beer, but the bread proved to be very good. Better than expected was the ordeal in which we had to cook and remove the skin from the head of a goat. It was actually quite fun and our leaders were enthusiastic about it, so the only unnerving part proved not to be the head itself but that it was again warm. But apart from being a bit strange it was genuinely fun and a great part of the race. My squad clocked in with a 3rd place finish, which was nonetheless satisfying as we had gotten in a long and fast run in addition to working together and experiencing some truly unique moments.
Following the Amazing Race, Lu and the senior leaders took us through two more games he had created to promote teamwork and cooperation. The first game involved several taped off sections of a goal and demanded that each team send a player through each section of the goal, high sections and low sections, without the tape lines being touched. The second game involved using a cup attached to six strings extending in different directions. The objective was to pick up the cup and carry it some 20 yards before emptying its contents into a waiting cup. The most full cup would determine the winning team. Squad C, my team, gained back all disappointment from the Amazing Race with two crushing victories. Wait to go amigos. Afterwards we made use of some free time to play 6v6 with teams mixed up between leaders and players. This continued until around 3 when the youngest age group, under-11s (aka waterbugs), started to trickle onto the field from the school and surrounding neighborhood. They ultimately took over our games but everyone was glad to play along with them or simply watch them run around.
Around 3 we were taken back into the clubhouse for a surprise. It was Vince's birthday, and as such we were treated to "smilies", a typical township birthday delicacy. We received four of these smilies, which are basically grilled sheep heads (so named for the way their lips pinch when being cooked). Some of us were a little apprehensive, but one of the senior leaders, Rama, expertly carved it up and most everyone had a piece. I was fortunate enough to get one of the cheeks, which despite being significantly more chewy, predictably ended up tasting like any lamb we may have had at home. In retrospect the only strange part was the presentation of the four heads rather than the meat itself. Happy birthday Vince, and thanks for the sheep heads I guess.
While the smilies had been quite a gift from the senior leaders, it had also allowed them to go through their programs on the field with the waterbugs while we were inside. This worked out well as they did not need our interference and we likely would have had difficulty not running around with the little guys. But when their sessions and ended and we met them out on the field, that was exactly what we ended up doing.
In order to remove the waterbugs from the field as well as get in some additional conditioning, G instructed us to grab one of the little ones and take them out of the park with us. The plan was that they would run with us as we left the field but would fall behind as we picked up the pace and they headed for home. Not a bad plan, but what happened instead seemed like something out of a movie. After about 10 minutes of running it became clear that these kids were not about to fail in their efforts to keep up. The fact of the matter is that they all just wanted to sing and dance and hold your hand regardless of the fact that they had met you 15 minutes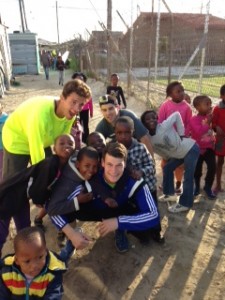 earlier. They were more than eager to run themselves into exhaustion with their hands in ours, laughing about funny songs and dodging puddles. Eventually G slowed us to a walk, and we made a big loop all the way back the field. Everyone had a child on their shoulders or back, and I don't think any of the kids running with us went for more than a second without a palm in theirs. People were in doorways and in the streets singing and cheering us along throughout the duration of our walk.  To see such open kindness and comfort for all parties seems unreal in a place that had the highest per capita murder and rape rates in the world when the field was being built in 2008.  Honestly it was nothing short of magical.When we returned to the field the kids were not supposed to reenter so we hung out just outside the fence with young ones in our arms and clinging to our legs. The joy was evident on the faces of these young kids, and countless times I heard one of our players exclaim that it was the best day of their life. It is easy to usually regard such outbursts as the result of momentary excitement, and perhaps I should again view them as such. But it was such an overwhelmingly genuine experience that was 100% typical of the township and 100% amazing for everyone involved.
We unenthusiastically headed back within the fence as G encouraged us to watch the u-15s play for a while. Still, many of the waterbugs stayed just outside of the fence to cheer and continue to chat with us. However we were also interested in watching the more advanced programs as well as saying goodbye to Mr. Campbell, who had been at the field when we arrived. He is a truly inspiring figure that we were fortunate to spend some time with, and he shared our reluctant hearts as we all left the field.
Having left the field around 5, we arrived home around 5:45 exhausted both physically and emotionally.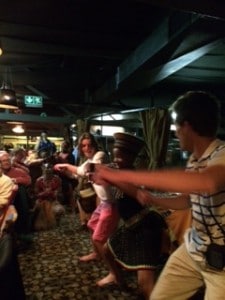 Our turnaround was again quick as showers and recuperation last only until 6:45. At that time we headed to Gold: Opulent African Cuisine for dinner and one last amazing show for the day. They gave us small portions of every item on the menu, intending that they be shared by everyone at the table. Dishes included coos coos, spinach, springbok venison, fried almond wraps, chicken wings from Mozambique, and traditional South African bread. Each dish was immaculately prepared and though I confess that I did have my favorites, I enjoyed each dish for both its taste and its new arrival in my life. We were also treated to African drumming and dancing periodically throughout the night, usually featuring performers from the restaurant. Vince also featured in one the dances as it was his birthday, with Trevor and Wild making appearances as well. It was a delicious, entertaining, and enlightening night.
We left the restaurant at 10 after a three hour stay, and I confess I was ready to head home and hit the hay. Fortunately I was able to again engage myself in a conversation as G gathered the players together and encouraged us to share our thoughts about the field. Given the enthusiasm we all share for the field, we fought off some drowsiness to create a good discussion about observations, opinions, and changes that the experience had brought to us as a team and as individuals. Around 11:45 we returned to our rooms until we could no longer stay awake to hang out. I found myself again far too tired to catch up on my blog work. Fortunately it is a labor of love. It was a truly unbelievable day that I am glad to commemorate in words as well as in the memories that will last us all a lifetime.
As always I hope all readers back home are doing well, and I am glad I can assure you that everyone here is doing quite well. PH&L.