To American readers I apologize for the delayed posting of this entry, spotty wifi conspired with travel time and a busy schedule to push me back a little. I hope to avoid such delays in the coming days, and I hope my belatedness does not diminish the story. Again, my apologies.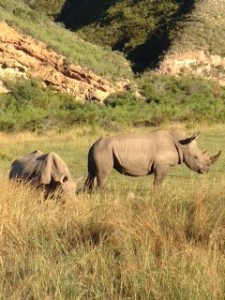 Sunday morning ushered in a 6 AM wakeup call in order to catch transport for a 7 o'clock safari. After tea and coffee, we headed out to hopefully glimpse some more African wildlife. Having already seen lions and other popular species the night before, we hoped to track down a rhinoceros before the morning ended. While the majority of the morning failed to provide a rhino sighting, a stunning a sunrise and plenty of zebra sightings made it nonetheless enjoyable. Fortunately towards the end of our time out we did get to study the horned beasts. Dave Reingold claims that he spotted the rhinos and ultimately led us to them, but consensus says that it was actually due to expert tracking by the drivers. Regardless, the nickname "rhino" might become a reality for Dave. He doesn't have much in common with them as he doesn't exclusively eat grass, have a hugely intimidating horn on his face, or use the road as a restroom. I nonetheless hope that his new tag sticks.
We returned from the safari a little after 9 and enjoyed breakfast on the patio of the restaurant building as the sun continued to rise. We then enjoyed Chris Scott and Dave Rosenfeld's presentation and discussion on "leading from the front". It was a very fitting topic for our two captains, and their presentation may have matched our epic day 1 standard. The jury is still out. Afterwards, around 11, we boarded the bus for Cape Town. Our journey was finally headed towards its climax.
Due to our general excitement to reach Cape Town, the group as a whole decided to not stop for lunch and to avoid bathroom stops as much as possible. As a result we took a 5 hour drive straight through to CT that featured highlights like Templeton's epic snoring, Kevin Wolfe showing us an impressive ability to quickly produce sandwiches, Sam predictably singing and dancing in his seat, and me crushing some novices at Uno.
We arrived at Head South Lodge, our Cape Town lodging, at a tad after 4. Upon arrival we met up with Ryan McGonigle, a 2008 graduate of F&M. In addition to holding the record for most goals by a player in a single season at F&M, G is also widely recognized for making the Chris Campbell Memorial Field into the wonder it is today. He and Kevin took us out for run on the promenade soon after our arrival, and it was clear that he is obviously still quite fit as well.
Post-run showers and a bit of recovery took us into dinner atthe lodge where we again enjoyed South African sausage, steak, salad, and a fantastic cake/pumpkin pie hybrid. Apparently there was some concern that serving Americans pumpkin pie may create potential for disappointment, but it turned out to be the high point of an overall very good meal.
After dinner Coach Wagner introduced the parents to the story behind the CCMF, and we all had the pleasure of hearing Chris Campbell Sr. tell his side of the story. Apparently this is the first time Mr. C has spoken publicly about the field and while it was emotional for those close to the field's development, it proved to be an insightful, exciting, and moving gathering. I had the pleasure of speaking with Mr. C until after 11 o'clock, and his energy only furthered my excitement to end the long wait and finally enter Khayelitsha and see the field.