Day 4 – Saturday, May 17 – Lions and Elephants and Giraffes and Zebras…oh my?
Day 4 opened with a disheartening continuation of the rain that came down as we went to bed the night before.  Unfortunately this led to the cancellation of a morning hike a few guys had planned as well as the training session we had scheduled for 9.  Having gotten back into a soccer groove yesterday there was some disappointment in the camp, but the likelihood was low that Sans Park would offer a playable field that allowed for a productive session and the continued health of our guys.  So while our post-breakfast plans didn't include time on the pitch we nonetheless made use of the free moments.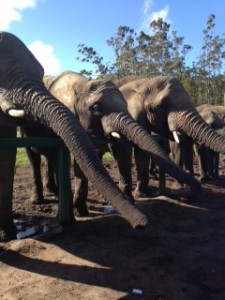 Word somehow traveled through the squad that there were elephants we could hang out with nearby.  After breakfast we reluctantly left Tsitsikamma for good, arriving at Knysna Elephant Park around 11:30.  Knysna Park serves as a sanctuary for orphaned elephants of the depleted South African herd.  After a short education on elephant dos and don'ts, we visited with 6 of the lovable giants, feeding them fruit and posing for pictures.  I had heard that time with the ellies felt spiritual, and though I was unconvinced it did indeed prove to be thought-provoking.  I was fascinated by the evolutionary process that lead these animals into existence.  How did these enormous, strong, leathery creatures become graced with such great intelligence, loyalty, and calm?  I confess I was hoping to swing on one of their trunks like in Dumbo (my favorite Disney film), but despite my disappointment the experience proved to be far more valuable than I could have hoped.
After our time at the park we ventured a further 15 minutes into the town of Knysna for lunch.  Time was short, so groups scattered looking for a quick bite.  I found myself again in Wimpy's, this time with Scott Malfitano, Derek Pawlush, Max Watson, and Trevor Britton.  While the jury was again split on the quality of food, I was glad for the company and conversation.  Discussion ranged from the McDonald's business model to majors and career paths to European club soccer to why we call it chicken salad rather than the much more accurate South African term, "chicken mayo".  I fear that in covering day-to-day activities the priceless conversations, inevitable laughs, and endless movie quotes are left out.  I'm glad that I was aware of its value today over lunch.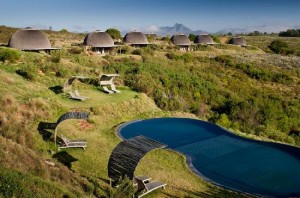 After getting back on the bus at 2 we were on the road for two more hours before turning off of the highway onto a seemingly unmarked clay road.  Having heard great things about our new destination, Gondwana Lodge, the ensuing five minute drive felt like it took about and hour and carried us about 500 miles into the bush.  When we finally arrived at the lot, we were greeted by endless grassy hills and weird buildings featuring thatched domes that looked like something out of Star Wars.  We were invited in for some light snacks before setting off on an evening safari without even dropping luggage off at our lodgings.  We set off on the game drive at around 5:15, and my group immediately saw the eyes of two hippopotami hanging out in a lake. After a quick u-turn we encountered a few zebras before we set off to find Cape Buffalo.  Disappointingly our search proved fruitless and instead turned into a roller coaster ride up and over countless hills.  Though the sun had gone down we were fortunate to catch up with a few giraffes before setting out for the big prize, a lion.  We were fortunate to hear of a small pride nearby and we soon happened upon five females and one male amongst some trees.  Most of the lions were visible and we could glimpse the results of a recent hunt.  However our safari guide, Shadweg (tentative spelling), hoped to get us a better view.  Unfortunately there was a lioness separated from the pride that was lying in the middle of our path.  In response Shadweg redefined the term "power move" by slowly approaching her until the big kitty relented and moved aside.  Ultimately we ended up within ten yards of all of the lions.  Needless to say it was simultaneously nerve-wracking, fascinating, and almost comical to see the pride tolerate our search light as they attempted to lay down for the night.  All in all it was a solid trip out.  I would say it was better than solid but I'm running out of positive adjectives.  That's proving to be the one downside to having every event live up to its hype.
We returned for dinner around 7:30 and while Tsitsikamma had provided all of our culinary needs, they were blown out of the water by what Sam Lane called "possibly the best meal I've ever eaten".  Chicken and steak accompanied a traditional South African sausage on the grill, while the buffet offered us chicken curry and tomato soup.  I attempted to eat some of everything and though I failed I still found space to tackle the custard/volcano brownie style dessert.  For my part, I don't think Sam made any overstatements about the quality of the food.
After dinner I was fortunate enough to spend some time with a few parents and teammates.  After some people left the remaining crew chatted extensively with the South African fellows behind the bar discussing soccer, native languages, and other national parks.  One fellow, Ati, even made plans and educated Templeton so that he could woo a pretty lady that will be around tomorrow.  Lets see how that works out.
Finally around 11 o'clock I returned home to what are simply astounding accommodations.  I'm barely exaggerating when I say that I walked into the living room with my jaw on the floor.  My bedroom would easily fit three dorms from Brooks College House and my bathroom could probably house a small concert.  Quite comfortable indeed.
I see that this has turned into my longest post yet, which is a bit surprising considering that I didn't jump off of a bridge or anything today.  Regardless I hope all is as fine at home as it is here, and that anyone reading will continue to enjoy the blog.  Peace, happiness, and love to all.