Day 3 offered us our first taste of soccer in Africa.  The day began at 7 with a team jog, followed by breakfast at 9.  Seniors Derek Pawlush and Sam Lane took their turn by presenting chapter 2 from Mandela's Way, titled Be Measured.  They highlighted Mandela's ability to emanate calmness and surefootedness in times of crisis.  While all present agreed that it was a quality presentation, it didn't quite measure up to the masterpiece served up on day two.  Sorry fellas, Landy and I will be glad to continue our role as benchmark.  Better luck next time.
After breakfast's conclusion, we departed for nearby Sans Park for our first training session of th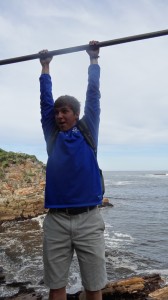 e trip.  After a 10 minute drive we emerged into a clearing featuring two rugby uprights/soccer goals.  Spectacular peaks served as the backdrop for the setting while the foreground was occupied by the barbed wire fence of the local fire station and park maintenance center.  Though the ground was a tad uneven and we at first found it difficult to play the beautiful game, everyone agreed that it was playable (except Helms, who hit the turf upwards of 25 times over the hour and a half).  So despite some frustration, a few adjustments eventually produced some quality play and a few nice goals during a short scrimmage.  Chase TenBrook executed a quality top corner finish, only to be outdone when Too Chill Perry treated us to some eye candy in the form of half-volley from about 25 yards.  Both goals were well appreciated by the firefighters and another small group of locals that stopped by to watch.  Afterwards players and spectators alike played a little keepaway that again featured a Wagner child megging an F&M player.  This time it was Tyler victimizing Sammy Lane.  I'm noticing a trend with those kids, I just hope I'm not the next target.
After training we went directly to Tsitsikamma Adventures for a lunch of burgers and chicken sandwiches courtesy of Steer's, another South African take on McDonalds.  After lunch everyone tackled the 8-line zipline course, featuring two or three wires stretching over 150 meters as well as a few shorter and faster lines.  All parties displayed excellent bravery.
We returned to Storm's River around 3 PM, with the only remaining event a 7 o'clock dinner.  In the downtime most people showered and took the opportunity to unwind, though a few wilder minds decided to take to the ocean for an afternoon bathe.  Predictably Trevor Britton served as the catalyst by providing the required amount of lunacy, but nonetheless I've heard that it was a good time despite the frigid water.
Dinner handed us another bout with Africa time.  Despite a previously scheduled timeslot at 7, we ended up hanging out until about 8:30 before food arrived.  However this had the added bonuses of a few high-stakes card games and letting Helms arrive just in time for food despite oversleeping by an hour and a half.  More importantly the beerbattered hake (basically fish and chips) was delicious and 9:30 was not too long to wait for the ice cream dessert.  After the meal all departed for a little more downtime, and I've been hearing rumors of Coach Wags making a guest appearance in the player's campsite? This remains to be seen, I doubt he can deal with the excitement we bring.  I think he has sent Scott Malfitano as a substitute, which has so far proved to be a good choice for everyone.  Wags can avoid the hike from his hut with those four dishes of ice cream in his stomach, and Scott can regale us with horrifically graphic Internet reviews of sugarless gummy bears.  So far so good.  Over and out.