My name is Jared Bomba, and I am a rising senior on the Franklin and Marshall College men's soccer team. In addition to enjoying the trip itself, I have the pleasure of attempting to relay each day's adventures to readers at home. While internet access and finding time to write may not be consistent, I will do what I can to provide an interesting and accurate account of the trip. I hope you enjoy the blog!
Our journey began the night of Monday, May 12th, when we met at Tylus field at 11 p.m. After loading luggage, the bus left Tylus for JFK Airport at 12:30 a.m. on Wednesday morning. We arrived in NYC at 4:00 that morning, with plenty of time to check in and board our 7:15 flight from JFK to Heathrow Airport in London. Weather was pleasant during our takeoff, and the weather in London was also quite nice. However due to time zone differences, a six-hour flight fr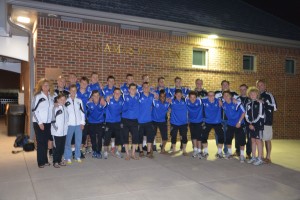 om NYC deposited us in the UK at 7:00 p.m. Matthew "Laser" Landy was unfortunate enough to have his 21st birthday on Tuesday the 13th, so his birthday was shortened by five hours. Poor lad. Fortunately there were plenty of dining locations in Heathrow where we were able to conservatively congratulate him on entering whatever it is that you enter after 21 years (adulthood?)
The next leg of our journey has us on a 9:20 flight from Heathrow to Johannesburg. Despite being a 10-hour flight, the flight was almost entirely south and we encountered just one more time zone change, arriving in Jo-burg at 9:00 a.m. The timing was fortunate as we were able to see a fantastic sunrise above the clouds as we neared our landing. Upon entering the airport and collecting our luggage for the first time since JFK (thankfully none was lost), we scrambled to catch an 11:00 a.m. flight to Port Elizabeth.
Despite the short duration of our stay in Johannesburg, we nonetheless got our first taste of African culture during the layover. The first notable instance was our introduction to "Africa time", a much discussed phenomena that basically boils down to a, shall I say 'relaxed', treatment of time. Simply put, things happen when they happen, and not before. So while we were hurrying to recheck in luggage for a flight, the poor bloke manning the domestic check-ins desk found himself unaided. With only one kiosk available and about an hour before our next flight, feet started pacing and eyes started checking clocks frequently. Fortunately we were able to find a more heartily-manned station where the team was able to check in, get through customs, and find our gate with 25 minutes to spare. As result of the time crunch, those in need of food got a taste of Wimpy's, a loose South African equivalent of McDonalds. Opinions vary on the quality of the cuisine offered, but all I can say is that I got a chicken and bacon sandwich for 25 Rand, about $2.50. I certainly can't complain.
After some delays on the runway (which should have been expected), our flight left Johannesburg and arrived in Port Elizabeth at 1:00 p.m. on Wednesday. Upon landing we collected our luggage and met our guide Jonathan, or Johno for short. We then proceeded to hit a nearby grocery store for snacks before driving two hours to dinner at Chrome and Fin City near Tsitsikamma. Ironically Chrome and Fin is a South African impression of an American diner, which attempted to recreate a true American experience by offering us lamb curry and beef lasagna. It's good to know that people outside of the U.S. can completely misunderstand the average cuisine of other nations just like we do (think Taco Bell).
After dinner we drove another 15 minutes to our lodging at Storm's River Rest Camp, where most of us have the pleasure of staying in delightful two-bed cabins. Oh and I failed to mention they are about 50 feet from the ocean. Needless to say, this campsite is fantastic. After moving in, we were glad to be able to relax after more than 33 hours of travel.