After at arriving at Storm's River the previous night, Coach Wagner promised us a day to "recover" from a few long days of travel. While that sounded nice at the time, what happened was fortunately far from a recovery.
The day opened with breakfast at the camp's restaurant, followed by a presentation on Richard Stengel's Mandela's Way. The plan is to have groups of two present a chapter of the book each day at breakfast. Laser Landy and I had the privilege of giving the first presentation on chapter 1, titled Courage is Not the Absence of Fear. Pardon my shameless self-promotion, but we set the bar high. To following groups, the gauntlet has been thrown down. Boom.
We departed straight from breakfast for what was described as a half-mile hike to a suspension bridge. Johno lead us to the bridge, which dangled over a river feeding into the ocean. On the other side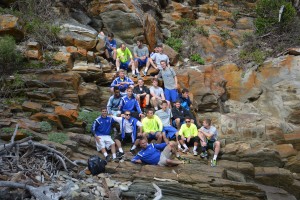 of the bridge, multiple paths lead in various unseen directions, but unfortunately exploring them was expected. Fortunately there were no other events planned before lunch at 12:30. One thing lead to another, and about soon enough around 15 of us were atop the tallest mountain on the coast that we could see. The views were stunning to say the least. The sweaty and adrenaline-filled sprint up the mountain was already a bit more activity than anyone expected. Nonetheless it was unquestionably worth the effort. Also kudos to Mr. Perry and Mrs. Levine for making the climb, well done.
After lunch we departed for Bloukrans Bridge, site of the world's highest bridge bungee jump. However, most of us admitted that a 220-meter bungee jump probably was not something we were mentally or emotionally prepared to tackle. However, inspiration struck again and 18 of us chose to jump. Representing the coaches and parents were Johno, Coach Wagner, Coach Kevin Wolfe, Mr. Scott Malfitano, Mr. Martin Perry, and the illustrious Mrs. Flere Bomba. If you're wondering, yes I did peer pressure my mom into jumping off a bridge. In retrospect I decided that it's fine for me to do overtly dangerous things, but she is no longer allowed. I was more nervous for her jump than my own. But, predictably, she crushed it.
Rising seniors were represented by T.J. White, Templeton Timothy and myself. Rising juniors were Chase "My name's not Trace" TenBrook, Mario Williams, and Vince "Too Chill" Perry. Rising sophomores were strongly represented by Tyler "Toy Car" Helms, , Connor "Squid" Finn, Dave Reingold, Conor Pellas, Ben "B-Rabbit" Wild, Dave Martin, and Gabe Boni. Needless to say it was quit the adrenaline rush, leaving most of us shaking and emotionally wiped out. Except Johno, who of course saluted the crowd before launch and basically made it look easy. I guess it's a South African thing.
We played a little keepaway in the parking lot until Kassidy Wagner's nutmeg of Chase (I mean Trace) sent the group into pandemonium, prompting our exit. We returned to camp around 5:00 p.m., got dinner and relaxed for the remainder of the evening. All in all, it was one of the most exhilarating days any of us have ever experienced. I could probably head home now and be satisfied with my time in South Africa. Fortunately that's not the case, and hopefully we will be able to "recover" in the days ahead as well as we did today.